Essential Oil Roller Balls:

I discovered essential oils many years ago. I have done countless hours of research on the benefits of them as well as reseached the best brands out there. I have found over the years some of the best 'blends' out there to help. Recently my favorite roller balls are the Chill N Relax and the Calming Mellow as I have been having massive amounts of anxiety and depending on what's going on they both have helped me immensely. I also have chronic migraines so the Move over Migraine has been helpful as well. I decided to share these with others as they have been beneficial to me as well as friends and family members.



Bless You AKA Allergy Bomb for Seasonal Allergy Relief
Ingredients: Lavender, Lemon, Peppermint, Coconut Oil




Chill "n Relax AKA Better Than Weed for those Big Drama Days
Ingredients: Ylang Ylang, Copaiba, Melissa, Black Pepper, Coconut Oil





Calming Mellow AKA Liquid Xanax when Anxiety has the best of you
Ingredients: Lavender, marjoram, ylang ylang, sandalwood, vanilla, R. Chamomile, Coconut Oil





Move Over Migraine when a Migraine has you down
Ingredients: Peppermint, Lemongrass, Frankincense, Lavender, Rosemary, Coconut Oil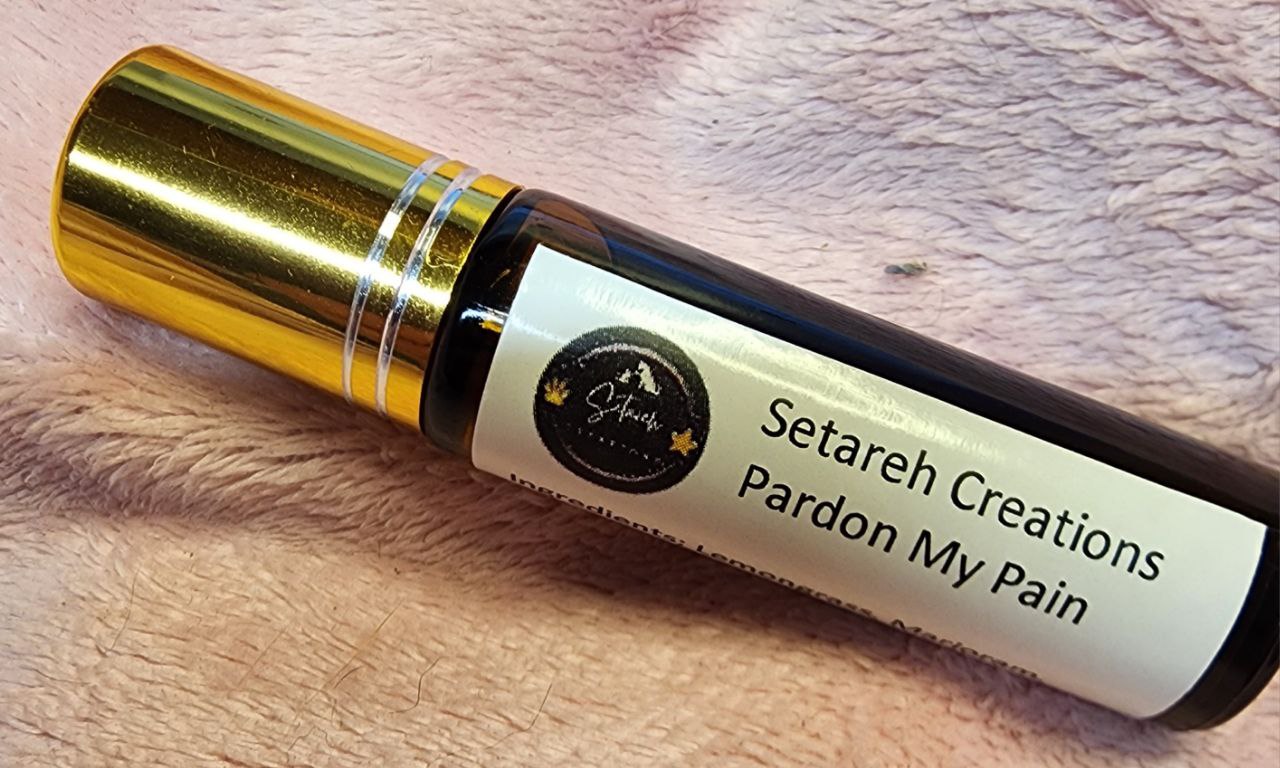 Pardon My Pain AKA Morphine Bomb for lifes Painful Moments
Ingredients: Lemongrass, Marjoram, Frankincence Coconut Oil








Snoozeville for a Swift Slumber
Ingredients: Lavender, Frankincence, R. Chamomile, Cedarwood, Coconut Oil



Visit our Etsy Shop to Purchase:

https://www.etsy.com/shop/SetarehCreations4U

If you are local to me (Bountiful, Utah) and would like to pick up

Text me at the phone number below and we can arrange a meeting to get your Products




100% handmade

PACKAGING
• This product is packaged in amber glass roller bottles containing 1/3 fl. oz. (10 mL). These bottles easily fit in a pocket or handbag, making them ideal for use when working or traveling.

Each bottle is individually labeled and sealed, and items are filled by weight rather than volume.

This sale is for one (1) roller for aromatherapy. Not all mixes might be shown in certain listings. The item you get will have the proper product label if you choose a mix that isn't shown in the photo.

DIRECTIONS FOR USE
To combine, roll the bottle between your palms. Apply topically to the back of the neck, behind the ears, or wrists (pulse points) or bottom of feet.

** Pardon my Pain **Apply to area that is painful as needed

• Do not touch mucous membranes. Exclusively for external usage.

THE FINE PRINT

• EXTERNAL USE ONLY.
We make no claims to being medical experts of any type, including physicians, nurses, or nurses. This product is not intended to take the place of expert medical advice. Before using any products containing essential oils, if you have a medical condition, are on any serious medications, are a woman who is pregnant, or are breastfeeding, please speak with a doctor.

Please do a tiny skin test patch before full usage if you have sensitive skin or are unsure of how you may react to essential oils.

• USE WITH YOUNGER CHILDREN (UNDER 10 YEARS OF AGE): Certain products are mixed with certain essential oils, have specified dilution levels, and/or are not recommended for use with children under the age of ten. Under the "DIRECTIONS FOR USE" portion of the listing, it will be made crystal apparent if a product may be used with children younger than 10 years old. We advise you to see your doctor and/or do some research before using essential oils on children.


• ALLERGIES: We produce a variety of soaps, lotions, butters, and balms that may accidentally expose users to or come into touch with the following: Arrowroot, Coconut, Corn, Oats, Tree Nuts, Nuts, Avocado, Goat Milk, Citrus, Wild Herbs (where relevant in product descriptions). Before using, test a tiny patch of skin. If you have a rash, redness, irritation, or itching, stop using the product right once, and call your doctor right away.


• CAUTION: exclusively for external usage. Do not consume. Keep out of children's and animals' reach. Never leave small children unattended. Oils, butters, balms, lotions, sprays, and soaps may make surfaces slick. Keep away from animals.


• LIABILITY: Any responses to things purchased from our shop are not within our control. Before making a purchase, the consumer must review the ingredients, any allergy information, and follow all necessary safety measures. Each product listing includes a complete list of components. We disclaim all responsibility for allergic reactions of any sort or for any other harm the products may allegedly bring about, including but not limited to lost profits, revenue, or company. Other than the product purchase amount, there will be no other method of compensation. You accept these conditions when you purchase our items.


• DISCLAIMER: The Food and Drug Administration has not reviewed these assertions. This item is not meant to be used in the diagnosis, treatment, or prevention of any disease. These assertions are not intended to take the place of medical advice. Consult your doctor before using any essential oil products if you are expecting, breastfeeding, or receiving medical treatment for a chronic ailment. Each person experiences variable degrees of effectiveness, as with many products made with essential oils. Based on our own personal experiences, we build our goods. Individual outcomes might differ, and specific outcomes are not guaranteed. Before utilizing any essential oil products, we urge everyone to do their study on the usage of essential oils.

Make sure you like my facebook page to stay up to date on all things essential!!! https://www.facebook.com/setarehcreations
This blend is created and made by Setareh Creations
Thank you for supporting my small business!!